Large Cat Backpack Carrier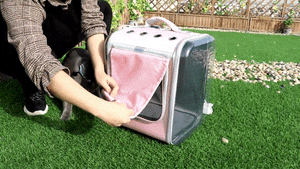 It's time to ditch the bulk cage carriers and get this backpack carrier instead.
Take your cat with you wherever you go. Whether it be the supermarket,  a walk in the park, camping outdoors, or simply going outside. You're cat is your best friend and you want it to enjoy the nice weather too. 
Benefits
Provides security and ease anxiety for pet owners 
Your cat will be more comfortable and less stressed out by being closer to you.
Show off your cats cuteness with a stylish back pack for them!
The zips are escape-proof.
Easy to store - Simply unzip the sides and fold away.
Transparent sides can provide security and ease anxiety.
Comes with an interior tether that can be attached to your kitty's harness for extra safety.
Others can see your kitty at all times - giving it the attention it deserves. 
This backpack carrier that is purr-fect when you want to take your cat outdoors. 
Carry your cat in style with this fashionable cat backpack carrier.

Features:

✔️ Carrying your cat is easier than ever -  Lightweight and durable materials make it easy to carry.
✔️ Breathable  - Your cat will be able to enjoy the fresh air. 
✔️ Comfortable - Your cat will be happy and comfy.

✔️ Durable -  Can hold up to ~10 kg / 22 lbs

✔️ Internal Traction Buckle - Simply connect your cat's collar to the buckle, when you open the bag, you'll have peace of mind your cat won't run away.  
✔️ Safe - You'll no longer worry about your cat jumping out of your arms while you're walking, traveling, or hiking.
Specs: Size: 35*30*40cm


Get one for you're cat today and enjoy the outdoors together!