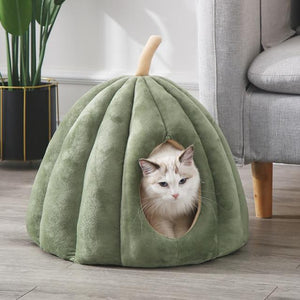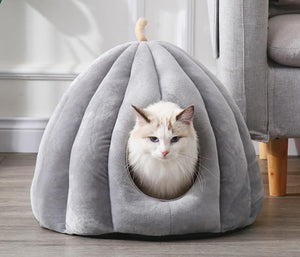 Wow your four-legged friend with this plush and warm cave bed.

Made to have the look of a cozy pumpkin that is big enough for even larger cats, who won't be able to refuse this snugger cuddle nest!

Watch as they eagerly claim it as their own new sofa to curl up on all day long. Say goodbye to pet hairball cleanup while choosing the top quality filling that will keep your kitty more comfortable than ever! 

Benefits
 ✔  Your pet will be warm and comfortable
 ✔  Your pet will have a place to sleep that is soft, cozy, and self warming
 ✔  You'll save money on heating bills because it's self warming
 ✔  You'll feel good about buying your pet a high quality bed
 ✔  Give your cat or dog the best gift they could ever ask for.
Features:

With it's pumpkin shaped and cave-like design, this snuggery burrowing 2-in-1 cave bed gives your furry friends some privacy, warm, cozy and durable.
Comfortable: Self-warming fabric / Super Soft with Premium Quality Filling


Non-Slip - The bottom keeps the cat bed in place for worry-free placement on tile and hardwood floors in the house.


Easy to Clean - Machine washable. Wash the entire cat bed on the gentle cycle with cold water and tumble dry in low heat.  


Material:  Velvet (Outer), Cotton (Cushion Filling).


Size Guide:
M: 40*40*35cm for pets up to 5kg / 11 lbs
L: 50*50*40cm for pets up to 8kg / 17lbs