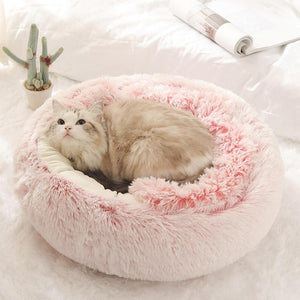 The perfect gift is the gift of relaxation and this Round Cave Bed for Cats and Dogs will give your fur buddy just that! Giving your pet its very own space to curl up in, keeping them warm and cozy as they snuggle their way into place. 

This round cat cave bed is soft and cozy, which provides your pets quality sleep. 
Each of these enclosed cat beds are made with high quality plush fabric, for extreme comfort and easy cleaning.
Benefits
You'll be able to sleep in peace at night knowing your pet is warm and cozy.
Your pet will love the extra softness of this bed!
Help make your furry friend happy and comfortable!
Gives your pet a luxurious, comfortable place to sleep
Features
Light-weight and portable
Easy to assemble
Plush finish - super-soft, warm and cozy design.
Filled with pet-safe elastic cotton for extreme comfort.
Size Chart:
Suitable for cats and small dogs
Small - 40cm x 40cm / 15.7" x 15.7" - for pets less than 3KG / 6 lbs

Medium - 50cm x 50cm / 19.6" x 19.6" 

- for pets less than 5KG / 11 lbs

 

Large  - 65cm x 65cm / 25.5" x 25" -  for pets less than 12KG / 24 lbs